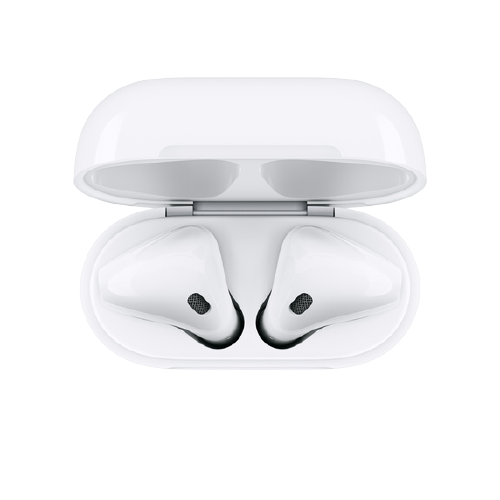 | | |
| --- | --- |
| | Outstanding features |
Just a simple setup With just one tap and AirPods are ready to work wonders. They're automatically on and connected all the time, and AirPods know exactly when they're in your ears. And it will stop playing when you take it off.

It's easy to adjust the volume, change songs, make calls, or even ask for directions - just say "Hey Siri," and you can go ahead. Plus, you can freely choose whether to wear one or both AirPods. And if you're already listening to a song or podcast, you want to choose to play or skip, just double-tap.

Charge your AirPods quickly and easily through the wireless charging case. Just place the case on a Qi-compatible charging mat to charge, and there's an LED indicator on the front of the case to let you know that you're charging AirPods and even when you don't have a charging pad nearby. You can also charge through the Lightning port.

AirPods give you up to 5 hours of listening time1 and 3 hours of talk time on a single charge2, and they're designed to go wherever you go. Because it has a wireless charging case that can be charged multiple times Including listening for more than 24 hours, 3 or if you need to use it, then no problem. Just 15 minutes in the case will give you 3 hours of listening4 or up to 2 hours of talk time5.

AirPods are powered by an all-new Apple H1 headphone chip, and feature optical sensors and motion detectors that can sense right in your ears. So whether you are using both headphones or just one side, the H1 chip will output sound to the headphones. With automatic microphone activation And when you're talking on the phone or talking to Siri, the speech sensor works with beamforming microphones. To filter out background noise and keep your sound in mind.

| | |
| --- | --- |
| | Connectivity |
Bluetooth 5.0


| | |
| --- | --- |
| | Size and weight |
AirPods (each) ¹
Height: 40.5 mm
Width: 16.5 mm
Thickness: 18.0 mm.
Weight: 4 g

Charging case ¹
Height: 53.5 mm
Width: 44.3 mm
Thickness: 21.3 mm.
Weight: 40 g

| | |
| --- | --- |
| | Equipment in the box |
AirPods
Wireless charging case
Lightning to USB-A cable
Documentation

| | |
| --- | --- |
| | Energy |
AirPods
Up to 5 hours of listening time on a single charge
Up to 3 hours of talk time on a single charge
AirPods with wireless charging case
Listen for more than 24 hours
Up to 18 hours of talk time
15 minutes in the case and up to 3 hours of listening time or up to 2 hours of talk time

| | |
| --- | --- |
| | Charger |
Wireless Charging case


Shipping By

K E R R Y E X P R E S S
The period of "express delivery" usually takes 1-2 business days (excluding Sundays and public holidays) and depends on the customer's delivery area.
Tracking number will be updated automatically in the system after the customer orders the product. If the status has not changed to shipped Please contact the company to check the shipping status.
* Https://th.kerryexpress.com/th/track * Check the status here
In the event that the product is damaged during transportation Customers can notify the company (hotline) 061-696-5224 then the company. Will check with the shipping way



| | |
| --- | --- |
| | Waranty |
*** The product is 100% new and authentic *
The warranty

Zero warranty products for 1 year, the company is a dealer. There is an import warranty service center. From the day of purchase, delivery of the product All products, factory QC, complete with warranty card seal to prevent counterfeiting or imitation. And without any unpacking, customers unpack the product, if there are marks or damaged, please notify the company immediately, do not plug in any connected equipment (will be considered void)
Imported products, shop warranty for 1 month, the company Be a dealer There is a guarantee to import to the store. From the day of purchase All products, factory QC, complete with warranty card seal to prevent counterfeiting or imitation. And no use of any unpacking customers, if there are marks or damaged, notify the company to return immediately, do not plug in any peripherals (will be considered void) *** product price May be cheaper than the zero price ***
The product is not guaranteed. The company is a dealer for rare products and the price is quite volatile From the day of purchase, delivery of the product All products, factory QC, complete with warranty card seal to prevent counterfeiting or imitation. And no use of any disassembly Customer unpack the product if it has marks or is damaged, the customer has received the above agreement. (Will be considered no warranty) *** Product prices may be very cheap or very rare products. Cannot be bought in the market ***

Every product is checked before delivery to every customer. During use, a HardWare or SoftWare defect occurs during the warranty period. Claims can be returned to the company except for damage caused by careless use or misuse, scratches, tampered products, abnormal products caused by non-maintenance. (Considered void)
Check every product inside the box Complete, such as products, manuals and peripherals If there is any damage, notify the company and return it, the company will inspect and send a new product for replacement. If the insurance period is over (Will be considered void)