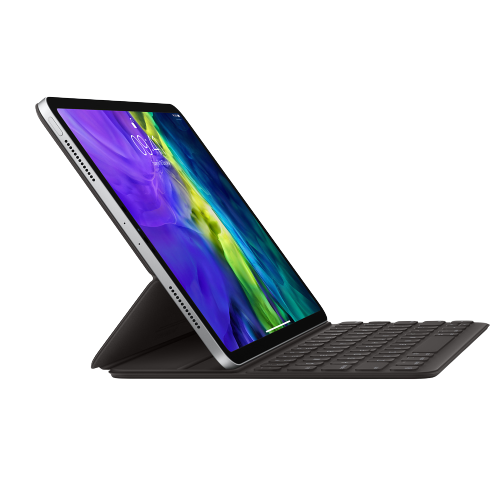 | | |
| --- | --- |
| | Outstanding Feature |
The iPad Keyboard offers a great typing experience and is lightweight and durable to protect your iPad.It attaches magnetically to iPad, eliminating the need for switches, plugs, or complicated pairing. Even if it's a Magic Keyboard, there's even more to it, including a floating design, backlit keys, and a built-in trackpad.

Smart Keyboard It is a full-size keyboard designed for iPad to give you the Comfortable typing experience wherever you are. And also changed It's a thin and durable front cover that you can use while you travel.

Print or view the foldable design, allowing you to customize the layout for printing messages, e-mails, or watching videos.

Lightweight cover protects the front with a slim, durable design.

| | |
| --- | --- |
| | Connectivity |
Bluetooth



| | |
| --- | --- |
| | Equipment in the box |
Smart Keyboard Folio

| | |
| --- | --- |
| | Can be used with |
IPad model
11-inch iPad Pro (2nd generation)
11-inch iPad Pro (1st generation)
iPad Air (4th generation)


Shipping By

K E R R Y E X P R E S S
The period of "express delivery" usually takes 1-2 business days (excluding Sundays and public holidays) and depends on the customer's delivery area.
Tracking number will be updated automatically in the system after the customer orders the product. If the status has not changed to shipped Please contact the company to check the shipping status.
* Https://th.kerryexpress.com/th/track * Check the status here
In the event that the product is damaged during transportation Customers can notify the company (hotline) 061-696-5224 then the company. Will check with the shipping way



| | |
| --- | --- |
| | Waranty |
*** The product is 100% new and authentic *
The warranty

Zero warranty products for 1 year, the company is a dealer. There is an import warranty service center. From the day of purchase, delivery of the product All products, factory QC, complete with warranty card seal to prevent counterfeiting or imitation. And without any unpacking, customers unpack the product, if there are marks or damaged, please notify the company immediately, do not plug in any connected equipment (will be considered void)
Imported products, shop warranty for 1 month, the company Be a dealer There is a guarantee to import to the store. From the day of purchase All products, factory QC, complete with warranty card seal to prevent counterfeiting or imitation. And no use of any unpacking customers, if there are marks or damaged, notify the company to return immediately, do not plug in any peripherals (will be considered void) *** product price May be cheaper than the zero price ***
The product is not guaranteed. The company is a dealer for rare products and the price is quite volatile From the day of purchase, delivery of the product All products, factory QC, complete with warranty card seal to prevent counterfeiting or imitation. And no use of any disassembly Customer unpack the product if it has marks or is damaged, the customer has received the above agreement. (Will be considered no warranty) *** Product prices may be very cheap or very rare products. Cannot be bought in the market ***

Every product is checked before delivery to every customer. During use, a HardWare or SoftWare defect occurs during the warranty period. Claims can be returned to the company except for damage caused by careless use or misuse, scratches, tampered products, abnormal products caused by non-maintenance. (Considered void)
Check every product inside the box Complete, such as products, manuals and peripherals If there is any damage, notify the company and return it, the company will inspect and send a new product for replacement. If the insurance period is over (Will be considered void)