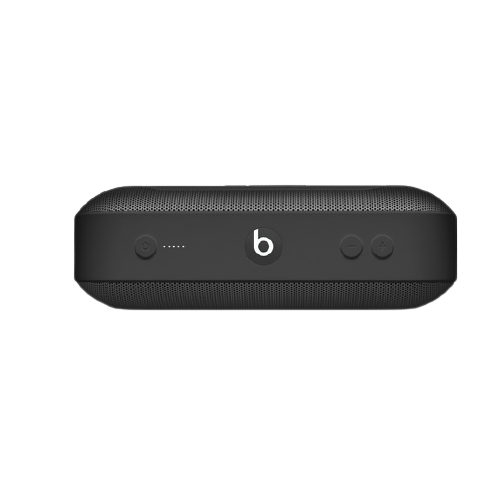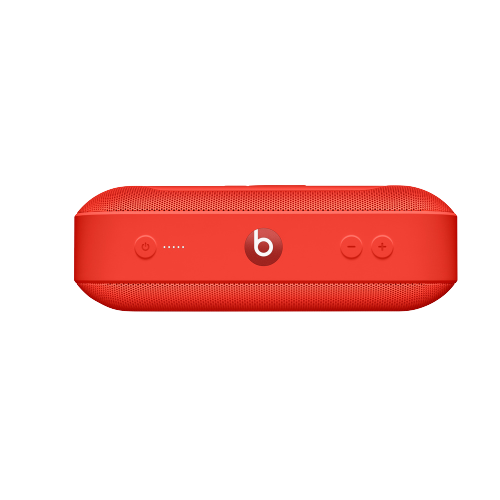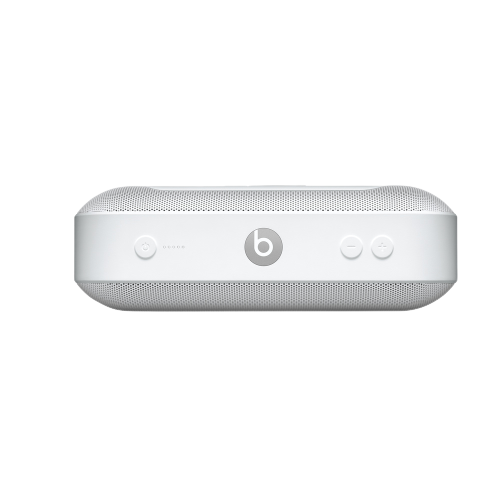 | | |
| --- | --- |
| | Outstanding Feature |
The Beats Pill + is designed so you can take it wherever you want. And fill the room with soft, crisp, powerful sound worthy of the loudspeaker nickname. With a sleek interface, Beats Pill + is easy to use and lets everyone have fun. With outstanding features for a unique music experience.
Small but more powerful

Stereo sound Active 2-way crossover creates an efficient sound space, delivering dynamic range and clarity to any music genre. Woofer and tweeter sound isolation uses the same audio equipment used in professional recording studios around the world.
Designed just for you

With its clean design, the Beats Pill + is as beautiful as it is in superb sound quality. Easy, intuitive interface. So you can play your favorite songs quickly.
Pair and play

Just pair Beats Pill + with your iPhone, MacBook, or any Bluetooth-enabled device and play your favorite music, videos and games in super powerful sound. Or pair it with your Apple Watch just as conveniently.

Speakerphone
Improved audio performance lets you make and receive calls with crystal clear voice, all day long.

Beat Pill + comes with a 12-hour battery to keep you going throughout your travels. Running out of time? Use the Lightning cable and included power supply to recharge quickly in 3 hours. Track power with a power display that shows charge level. So you always know how much battery life is capable of.
Charging

Keep your music playing by charging your iPhone or an external music device with a connected Beats Pill +.
Beats Pill + app

Download the Beats Pill + app from the App Store to unlock features that let you and your friends stay connected. In the midst of music like never before A second speaker mixes sound for more original playback. Additional software and product support can be downloaded within the app.
* Compatible with iPhone 5s or later, iPad Air (all models), iPad mini 2 or later, and select Android devices.

| | |
| --- | --- |
| | Connectivity |
Input type: 3.5mm stereo jack
Other features: Bluetooth, stereo sound

Input type: 3.5mm stereo jack
Other features: Bluetooth, stereo sound
Power source: battery power
Battery: Rechargeable lithium-ion

Height: 2.5 in./6.36 cm.
Length: 8.27 inches / 21 cm.
Width: 2.72 in./6.92 cm.



| | |
| --- | --- |
| | Equipment in the box |
Beats Pill + speakers
1.5m Lightning to USB-A charging cable
12.5W Power Adapter
Quick start guide
Warranty card

| | |
| --- | --- |
| | Can be used with |
IPhone model
iPhone 12 Pro
iPhone 12 Pro Max
iPhone 12 mini
iPhone 12
iPhone 11 Pro
iPhone 11 Pro Max
iPhone 11
iPhone SE (2nd generation)
iPhone XS
iPhone XS Max
iPhone XR
iPhone X
iPhone 8
iPhone 8 Plus
iPhone 7
iPhone 7 Plus
iPhone 6s
iPhone 6s Plus
iPhone 6
iPhone 6 Plus
iPhone SE (1st generation)
iPhone 5s
IPad model
12.9-inch iPad Pro (4th generation)
iPad Pro 12.9-inch model (3rd generation)
iPad Pro 12.9-inch model (2nd generation)
iPad Pro 12.9-inch model (1st generation)
11-inch iPad Pro (2nd generation)
11-inch iPad Pro (1st generation)
10.5-inch iPad Pro
9.7-inch iPad Pro
iPad Air (3rd generation)
iPad Air 2
iPad Air (1st generation)
iPad (8th generation)
iPad (7th generation)
iPad (6th generation)
iPad mini (5th generation)
iPad (5th generation)
iPad mini 4
iPad mini 3
iPad mini 2
iPad mini (1st generation)
Mac version
MacBook Air (M1, 2020)
MacBook Air (Retina display, 13-inch, 2020)
MacBook Air (Retina display, 13-inch, 2018 - 2019)
MacBook Air (13-inch, early 2015 - 2017)
MacBook Air (11-inch, Early 2015)
MacBook Pro (13-inch, M1, 2020)
MacBook Pro (13-inch, 2020)
MacBook Pro (16-inch, 2019)
MacBook Pro (13-inch, 2016 - 2019)
MacBook Pro (15-inch, 2016 - 2019)
MacBook Pro (Retina, 13-inch, Late 2012 - 2015)
MacBook Pro (Retina, 15-inch, Mid 2012 - 2015)
MacBook (Retina, 12-inch, early 2015 - 2017)
iMac (Retina 4K, 21.5-inch, 2019 and later)
iMac (Retina 5K, 27-inch, 2019 and later)
iMac (Retina 4K, 21.5-inch, 2017)
iMac (Retina 5K, 27-inch, 2017)
iMac (Retina 4K, 21.5-inch, Late 2015)
iMac (Retina 5K, 27-inch, Late 2014 - 2015)
iMac Pro (2017)
Mac Pro (2019)
Mac Pro (Late 2013)
Mac mini (M1, 2020)
Mac mini (2018)
Mac mini (Late 2014)


Shipping By

K E R R Y E X P R E S S
The period of "express delivery" usually takes 1-2 business days (excluding Sundays and public holidays) and depends on the customer's delivery area.
Tracking number will be updated automatically in the system after the customer orders the product. If the status has not changed to shipped Please contact the company to check the shipping status.
* Https://th.kerryexpress.com/th/track * Check the status here
In the event that the product is damaged during transportation Customers can notify the company (hotline) 061-696-5224 then the company. Will check with the shipping way



| | |
| --- | --- |
| | Waranty |
*** The product is 100% new and authentic *
The warranty

Zero warranty products for 1 year, the company is a dealer. There is an import warranty service center. From the day of purchase, delivery of the product All products, factory QC, complete with warranty card seal to prevent counterfeiting or imitation. And without any unpacking, customers unpack the product, if there are marks or damaged, please notify the company immediately, do not plug in any connected equipment (will be considered void)
Imported products, shop warranty for 1 month, the company Be a dealer There is a guarantee to import to the store. From the day of purchase All products, factory QC, complete with warranty card seal to prevent counterfeiting or imitation. And no use of any unpacking customers, if there are marks or damaged, notify the company to return immediately, do not plug in any peripherals (will be considered void) *** product price May be cheaper than the zero price ***
The product is not guaranteed. The company is a dealer for rare products and the price is quite volatile From the day of purchase, delivery of the product All products, factory QC, complete with warranty card seal to prevent counterfeiting or imitation. And no use of any disassembly Customer unpack the product if it has marks or is damaged, the customer has received the above agreement. (Will be considered no warranty) *** Product prices may be very cheap or very rare products. Cannot be bought in the market ***

Every product is checked before delivery to every customer. During use, a HardWare or SoftWare defect occurs during the warranty period. Claims can be returned to the company except for damage caused by careless use or misuse, scratches, tampered products, abnormal products caused by non-maintenance. (Considered void)
Check every product inside the box Complete, such as products, manuals and peripherals If there is any damage, notify the company and return it, the company will inspect and send a new product for replacement. If the insurance period is over (Will be considered void)